ORIGINAL & CUSHIONTRED MATS 20" X 10" X 9/16" ANTI-FATIGUE MATS
Our Work Matta™ 20″x10″x9/16″ anti-fatigue mats are lighter, more versatile due to their smaller size, and have a much lower profile than our 20″x20″ mats. At half the size of the 20″x20″ our 20″x10″ mats are easily adapted to most workplaces.
Matta™ original mats provide safe traction in wet environments.
These safety mats have been installed in facilities around the country including pool areas, gym and shower areas.
Other applications include bar and restaurant areas, inside recreational boats and US Navy vessels.
Just like our 20″x20″ mats our 20″x10″ mats are available as a solid surface or have holes for drainage. We also offer a wider range of colors for both mats and edges/corners.
NOTE
Click on product # to contact us about pricing.
*DIVIDE SQUARE FOOTAGE OF YOUR SPACE BY 1.3555 TO FIGURE OUT HOW MANY MATS ARE NEEDED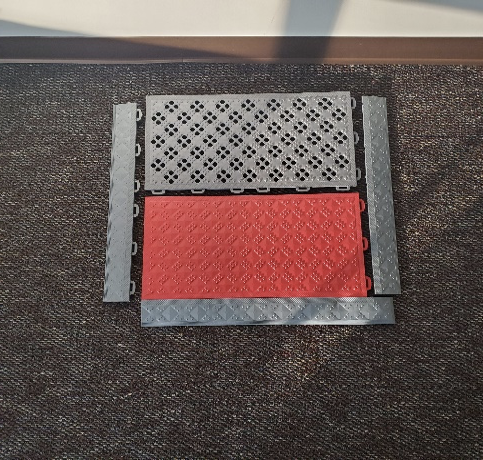 Our mats are made out of recycled PVC and have a 10 year warranty
Installation is as easy as hammering in a nail. All you need is a rubber mallet.